Are you an expectant mom, a new mom, or a mom of three or four? You're going to find something to love at Expo Mom Cagayan de Oro.
Expo Mom: The Motherhood Journey will give you a fun and fulfilling all-day program. Expect to be inspired by the different faces of mommyhood on October 15, 2016 at Centrio Mall, from 10AM to 9PM. Entrance to Expo Mom is free.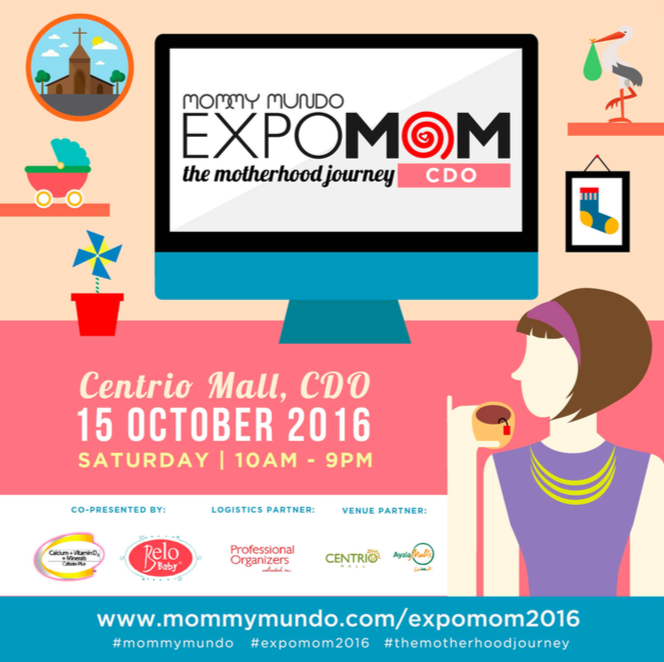 The Modern Nanays of Mindanao, a community of moms who promote breastfeeding, babywearing, and cloth diapering, will lead the celebration of motherhood with a Mamba session – a Zumba class made especially for moms with slings in the morning ! Dr. Raissa Paje Bayawa, founder of Happy Heart Kids Yoga, will also enlighten moms about the benefits of prenatal yoga.
It will be followed by two sessions delve deep into the amazing journey that all moms share. The first session focuses on pregnancy, breastfeeding and finding that right balance between home life & career. Guests are Nadine Casino, founder of Modern Nanays of Mindanao and Ruby Caberte, President of CDO Bloggers for 2016, who is also a mom. The second touches on baby care with discussions on the right way to wear baby and age-appropriate toys to help with a child's development. Guests for this segment will be an early childhood educator and a few mommies.
The other exciting activities scheduled include a bento-making session specifically devoted to picky eaters by the pioneering Bento Mommas, who have actually been with us all over the country this year! To participate, sign up at bit.ly/bentomommasCDO for Php900 which already inclusive of basic bento tool kit, bento box and food ingredients for the workshop plus freebies from sponsors.
Paola Paladio-Ching, a renowned makeup artist in CDO, will follow in the afternoon to demonstrate a makeup on the go session for busy mothers and craft workshops led by homegrown moms.
Topping the motherhood celebration is a fashion show devoted to babywearing, showing one and all that it is possible to look positively trendy with a baby in tow.
To date, Expo Mom continues to be a source of information and inspiration among modern parents and a wellspring of modern products and services for the whole family.
Expo Mom 2016: The Motherhood Journey is co-presented by Caltrate Plus and Belo Baby with Centrio Mall and Ayala Malls as its venue partner, supported by Modern Nanays of Mindanao, Carmel Kho Ricarte and Moms Radio, and Professional Organizers Unlimited, Inc. and Creative Juice Communications are its logistics partners.