Cagayan de Oro Embraces EcoBags
To reduce the use of plastic bags and to promote the city's campaign for the environment , a Memorandum of Agreement for the "CdeO EcoBag", an initiative of the Environment & Natural Resources Committee and the Social Services Committee, was jointly signed by City Mayor Vicente "Dongkoy" Y. Emano and representatives of the major malls and supermarkets (like Ororama, Gaisano, Robinsons, Savemore and SM City) in the city during this week's flagraising ceremony at the City Hall. This City Ordinance #12395-12 is dubbed as the City Ecobag Project.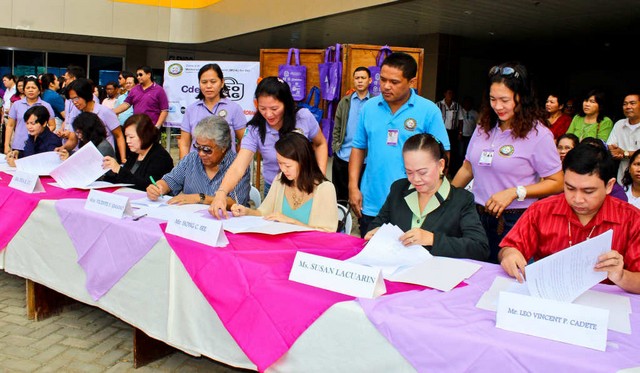 The supermarkets and major malls around Cagayan de Oro will no longer give out plastic bags or containers to their customers unless they would opt for it.  It is known to the public that SM Supermarkets have observed the "No plastic bag day" or "Reusable Bag Day" every Wednesday since November of 2010 nationwide.
This city wide initiative followed the adoption of the same project in Makati and Davao City, to mention a few. The goal of the project is to promote a pollution free Cagayan de Oro and to reduce the pollution caused by non-biodegradable materials. Other than that, this will provide extra income and livelihood to the the Sendong survivors (International Name: Tropic Storm Washi) through the guidance of the Social Welfare and Development umbrella of the Philippine government. Info and Photo Source: CIO