"Your feet will bring you to where your heart is." says the first page of Mark Bautista's Footnotes Socks Website.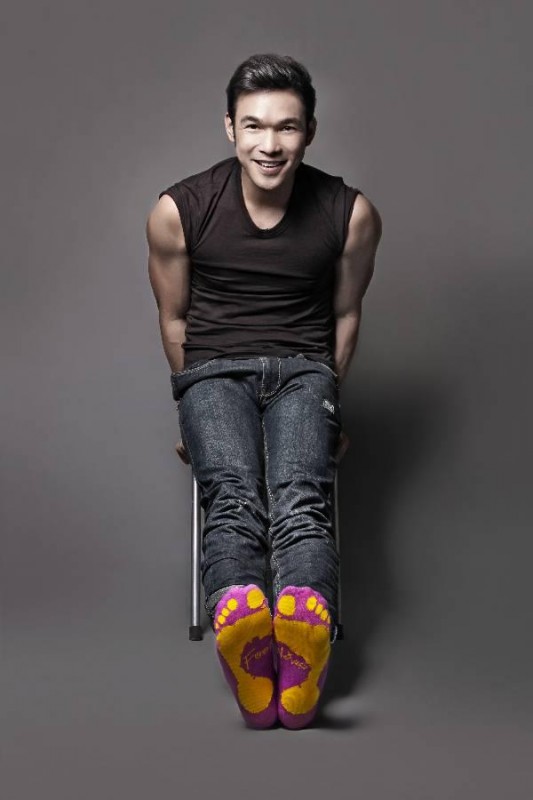 A proud Kagayanon, Mark Bautista, balladeer, joins the business world with Footnotes Socks. Mark Bautista was known for his story of inspiration after he placed in "Star for a Night" with Sarah Geronimo. He was known to place a 1 peso coin on his shoes to boost his confidence to sing and now he is sharing the inspiration through Footnotes Socks.
Foot Notes Socks are colorful socks which each carries inspirational statements like as "Never Quit" and "Just Breathe." It also carry statements like "Persecuted but not forsaken or destroyed. I stand firm" and "Every failure is a necessary step to success."
Growing up I loved the stage, but it didn't come easy. Stage fright was something that always held me back and I still remember all the emotions, just like it was yesterday.

Strangely enough my mom had the perfect solution: She put coins in my socks before one of my competitions, and told me this would help calm me down.

That day I went on stage with the coins in my socks and little did I know that I would take these coins with me for the rest of my life.

It wasn't just about the coins, it was what the coins reminded me of.. My mother's words, or maybe it was the magic in them.

Now I share the magic with you: through "FOOTNOTES"; these socks carry the words and the inspiration that have guided me in my struggles and in my journeys.

So as you wear them each day, I hope the quotes will guide and inspire you as well to always put your best foot forward – in each step that you take.

"FOOTNOTES" is not your ordinary pair of socks.

It is inspiration at your feet!
-Mark Bautista
You can buy this colorful and inspiration socks online by going to the Footnotes Socks Website. For the latest update, like the Mark Bautista's Footnotes Socks Facebook Page.