Missy Bon Bon, one of Cagayan de Oro's fast growing brand reopened last February 5, Sunday, 7AM at Limketkai Center.
Missy Bon Bon or fondly called MBB by the locals first opened it's kiosk at Big R (Robinson's Place) in 2009 and later in 2010 opened its flagship bread shop/dining joint in Rosario Arcade. Since then this hip, cozy and world-class bread shop has been serving healthy, natural, and bakery-fresh pastries on site. It also serves gourmet comfort food, custom gelato mixes and it is also the home of the CDO awarded delicacy – the Missy Bon Bon pastel.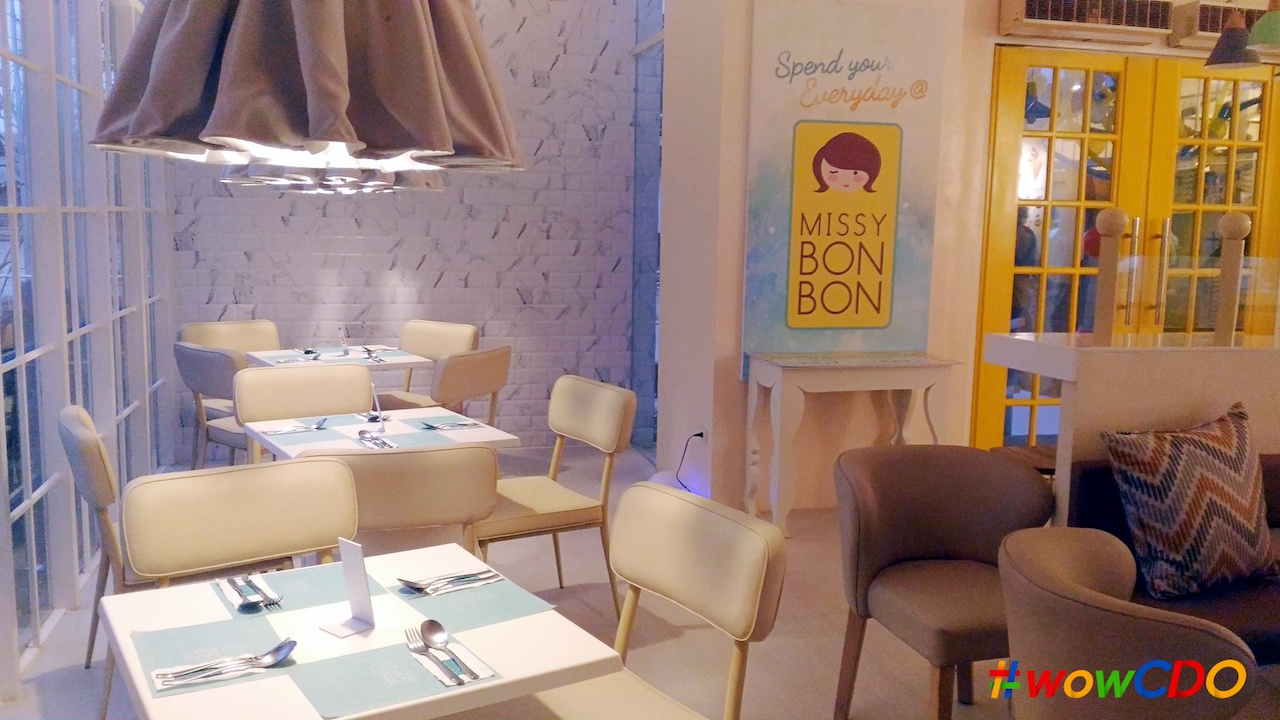 Since its opening in 2010, it has established stores and kiosks in the cities of Davao, Iligan, Cotabato, Mactan and Cebu. It has also received distinctions from the top culinary competitions in the country such as the National Food TV showdown and Kumbira. Missy Bon Bon also started the trivia craze in Cagayan de Oro making it the go to destinations for students and young professionals during its early years.
Today, Missy Bon Bon go-to-place where families and friends bond or reunite. Here's a couple of photos we took hours before the opening.
If you haven't been inside the New Missy Bon Bon, expect this place to be one of the most Instagrammable place in the Metro.
What's new with the renovated Missy Bon Bon is the division between its pasalubong area and dining area. A photo below showed the first few customers who lined up during the opening day. It was a gloomy and rainy day but yet over a hundred flock to get the Golden Ticket. Giving of the Golden Tickets to its opening has been a Missy Bon Bon tradition ever since.
The new Missy Bon Bon today now offers lunch and dinner specials. Here are a couple of dishes I tried.
First is the Missy Bon Bon Le Cordon Bleu.
Next is the Chicken Katsu Curry – one of the new crowd pleaser on their lunch/dinner menu.
The Shepherd's Beef Pie will also make active your appetite to order more. Hey, don't forget to pair it with the rice served.
Their Super Crispers or their Chicken in a box is also a good choice for sharing. Highly recommended for groups or families.
Lastly, never go out of Missy Bon Bon without trying the Tuscan Lemon Fish.
Finish off your meal with a dessert. We had the following:
Cookies N' Cream
Plus the most shared photo on social media to date – Missy Bon Bon's Rainbow cake.
You may also check out my personal vlog – here's a quick video tour inside the New Missy Bon Bon.
https://www.youtube.com/watch?v=lmMaZjJYbDc
Did you find this post helpful? Feel free to share it. You may also subscribe to our newsletter to be updated with the latest in Cagayan de Oro.
WOWCDO.com is an award-winning Top CDO blog site that aims share the good stories, worth attending events, appetizing food options, must-go places and local personalities from the City of Golden Friendship. Remember, we share ONLY the WOW part of CDO!
Let's talk, contact us here or email wowcdoblog@gmail.com.