Got a funny, inspiring, sweet, unforgettable Golden Cowrie or Hukad experience?
Higala! Share an with your friends or family as Hukad and Golden Cowrie launches their #KwentongSalusalo. Get rewarded by sharing it on social media!
Truly every meal is special with your special somebody and in every Filipino family – FEAST is the word!
"We Pinoys love to eat — feast, actually! Every meal is served not just with sumptuous, flavourful dishes, but with fun and happy conversations (and situations!) that are sure to fill tummies and hearts. We just love to relive moments and create new memories."
Night outs are also best for the guys to bond! The night wouldn't be complete with great food and a bottle of beer.
"Boys' night out is certainly not just about having a great time over bottles of beer. Indulging on a feast of their manly favorites, such as crispy pata, is more than enough to complete an enjoyable night out with the bros."
Here are more videos you can watch that truly resembles the experience of Filipino families in a table – FEAST and FAMILY BONDING! Even ladies have their own bonding moments!
"Filipina beauty is definitely world-renowned. Their refinement is highly prized, and their smiles are known to charm the world. And what more can make a Filipina smile than bubbly moments over a hearty meal with loved ones."
"We, Filipinos, take great pride in our close family ties. Nurturing our bond with each member is top priority, especially during meal times. There, we don't just share the delicious dishes prepared, but also share meaningful conversations and laughter that we would always cherish throughout the years."
Tell Hukad or Golden Cowrie of this #KwentongSalusalo experience here: http://story.alwaysafeast.ph.
Hukad is extending their promo until September 19! Share your Kwentong Salu-salo for a chance to win an iPad Mini or P10,000 worth of feasts!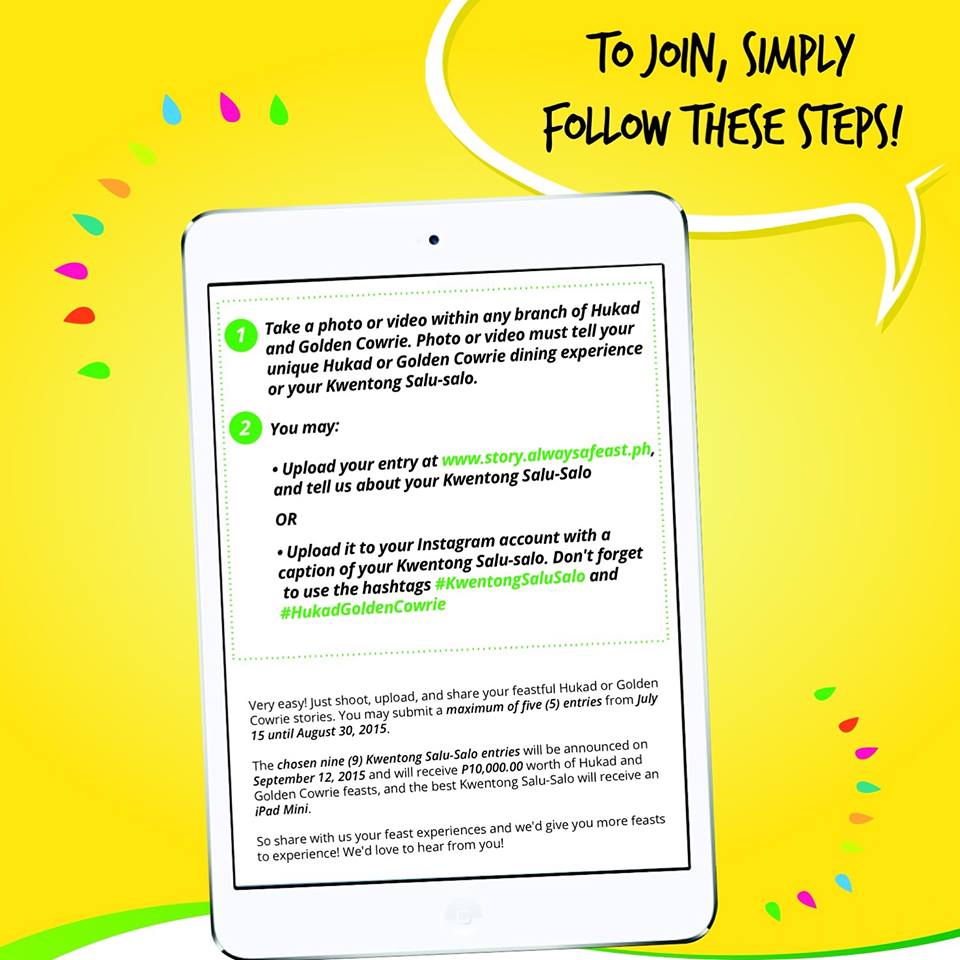 In North Mindanao, you can visit and dine at any of the nearest Hukad branches:
HUKAD – CDO CENTRIO
Level 2, Ayala Centrio Mall, CM. Recto Ave. cor Corrales Ave., Cagayan De Oro City
Telephone Number: (088) 880-1251
Store Hours: 10:00 am to 10:00 pm
HUKAD – OZAMIZ
Ground Floor, Royal Garden Hotel, Zamora St., Ozamiz City
Telephone Number: (088) 521-2888
Store Hours: 10:00 am to 9:00 pm
HUKAD – BUTUAN
L/G Floor Robinsons Place Butuan, Butuan City
Telephone Numbers: (085) 341-8777 / 342-8999 / (083) 302-5349
Store Hours: 10:00 am to 9:00 pm
To get more info, check out Hukad Golden Cowrie FB page, IG @alwaysafeast or visit their website – alwaysafeast.ph.