President Rodrigo Duterte declared on May 23, 2017 Martial Law to the entire Island of Mindanao which includes Basilan, Sulu and Tawi-Tawi, for 60 days.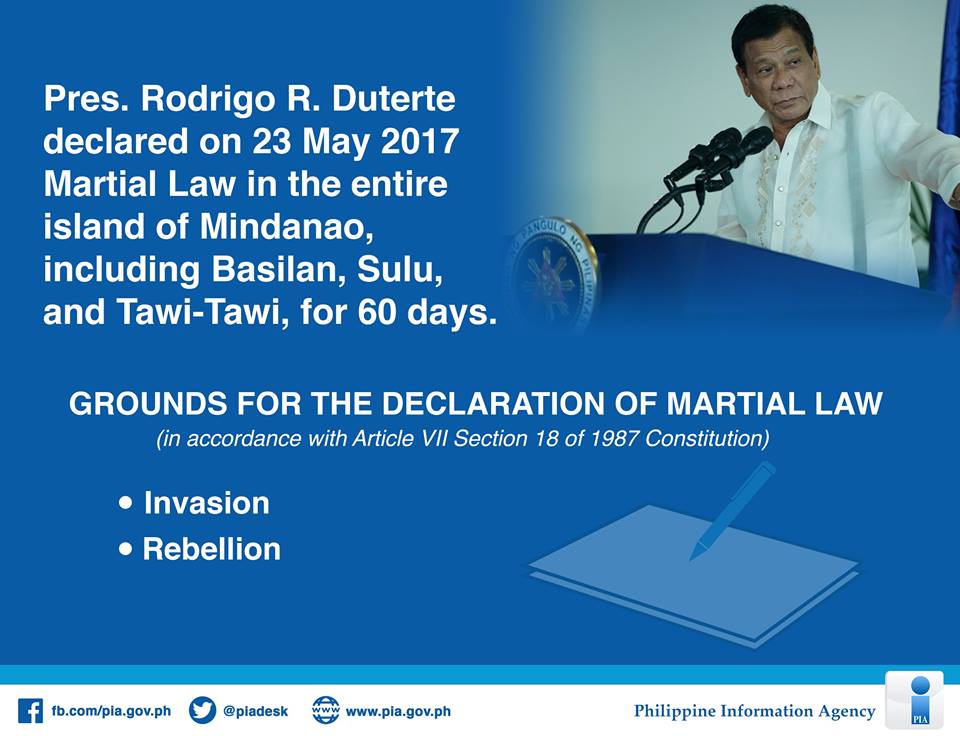 He declared Martial Law based on invasion and rebellion, grounds in accordance with Article VII Section 18 of 1987 Philippine Constitution.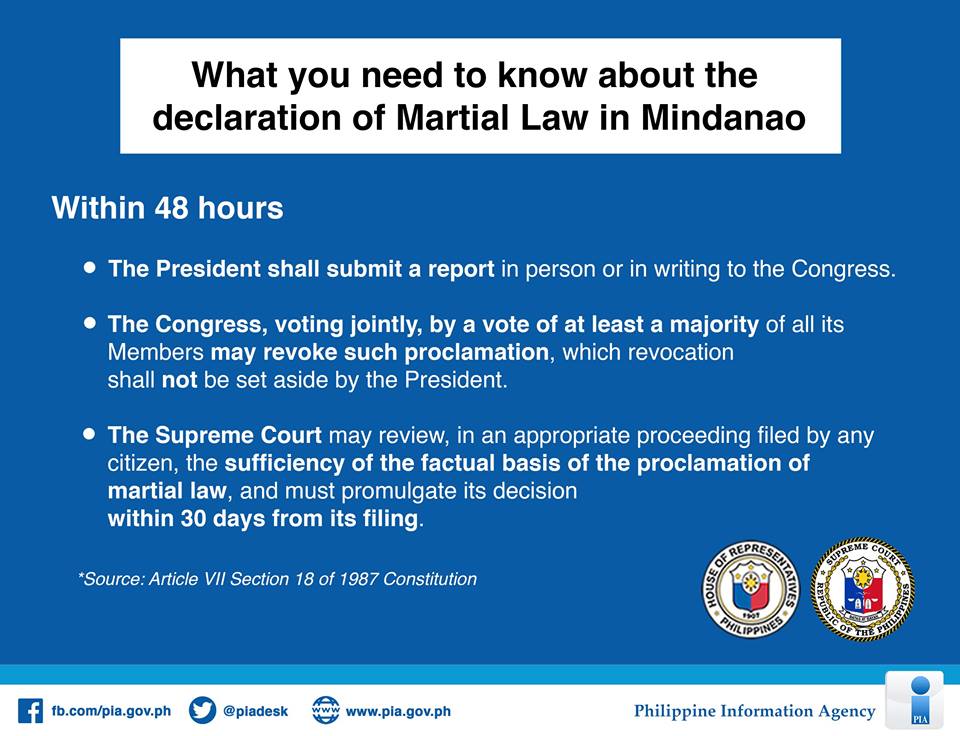 What you need to know about the declaration of Martial Law in Mindanao
Within 48 hours,
The President shall submit a report in person or in writing to the Congress.
The Congress, voting jointly, by a vote of at least a majority of all its members may revoke such proclamation, which revocation shall not be set aside by the President.
The Supreme Court may review, in an appropriate proceeding filed by any citizen, the sufficiency of the factual basis of the proclamation of martial law, and must promulgate its decision within 30 days from its filing.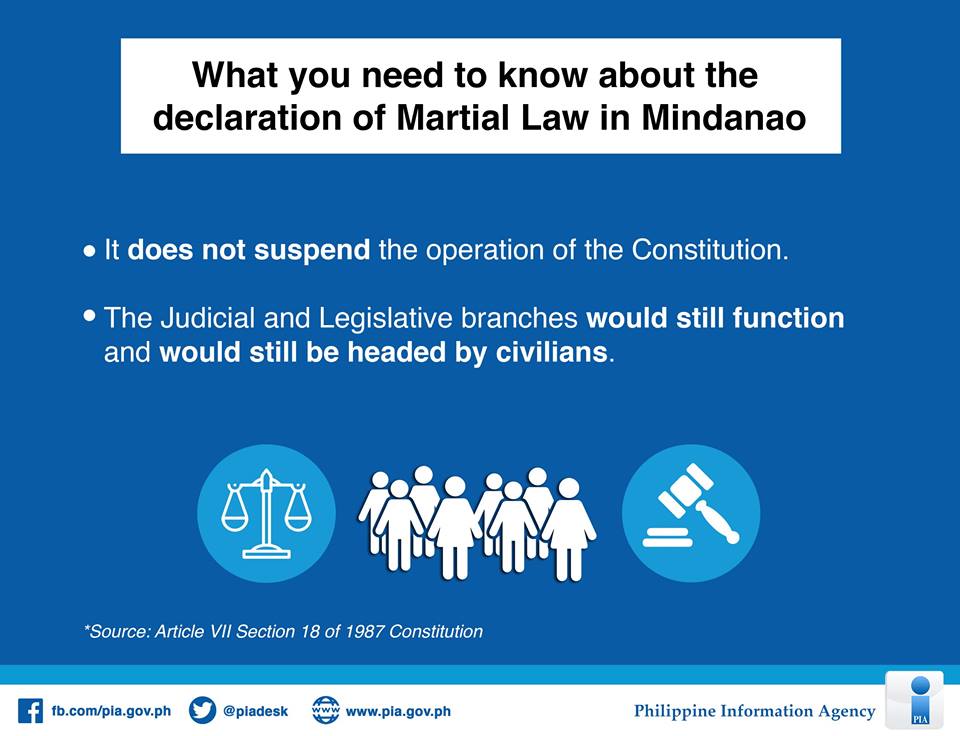 This proclamation doesn't suspend the operation of the Constitution.
The Judicial and Legislative branches would still function and would still be headed by civilians.
RIGHTS OF CIVILIANS IN CHECKPOINTS according to the Philippine National Police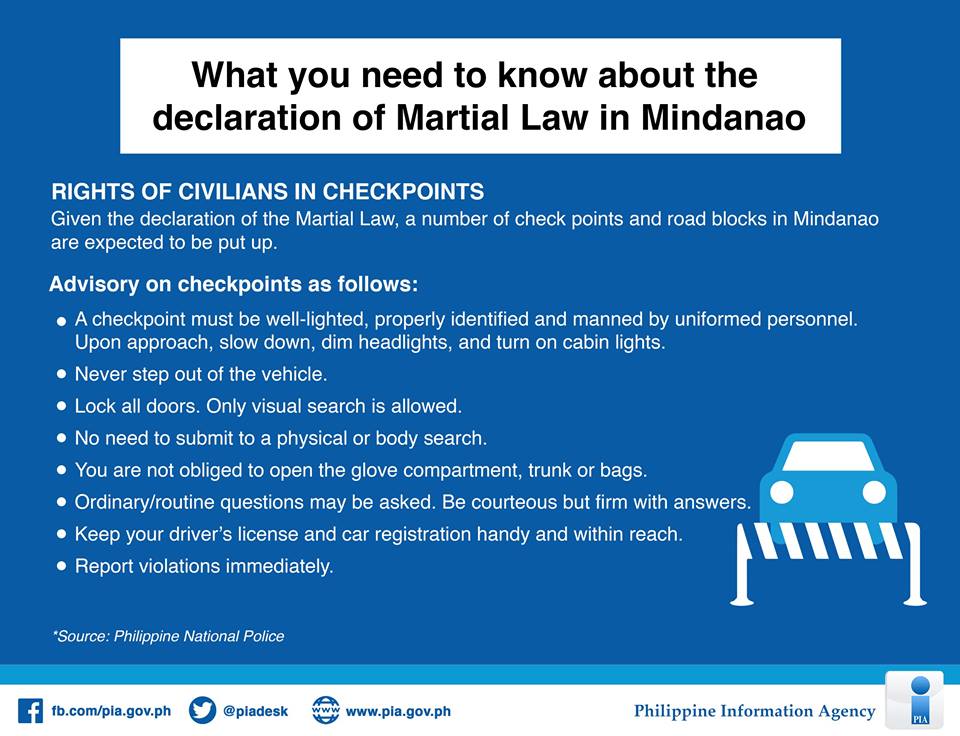 Given the declaration of the Martial Law, a number of checkpoints and roadblocks in Cagayan de Oro and Mindanao are expected.
Advisory on checkpoints as follows:
A checkpoint must be well-lighted, properly identified and manned by uniformed personnel. Upon approach, slow down, dim headlights, and turn on cabin lights.
Never step out of the vehicle.
Lock all doors. Only visual search is allowed.
No need to submit to a physical or body search.
You are not obliged to open the glove compartment, trunk or bags.
Ordinary/routine questions may be asked. Be courteous but firm with the answer.
Keep your driver's license and car registration handy and within reach.
Report violations immediately.
Info and photos were from the Philippine Information Agency.
Did you find this post helpful? Feel free to share it.
WOWCDO.com is an award-winning Top CDO blog site that aims share the good stories, worth attending events, appetizing food options, must-go places and local personalities from the City of Golden Friendship. Remember, we share ONLY the WOW part of CDO!
Let's talk, contact us here or email wowcdoblog@gmail.com.