As the Marawi Clash continues, more families flee to nearby cities to seek security and a place to temporarily call their home. There's is that uncertainty amidst this crisis. We don't until when this clash would be over. All we just pray is this will be put to an end.
https://www.youtube.com/watch?v=34L4hqDrBvo
Thousands of families are now at the evacuation centers in Iligan City and Lanao del Norte, while supplies of evacuation packs are given to them, this uncertainty causes scarcity. Not all evacuees are adults, there are also kids and pregnant women.
While WOWCDO.com aims to share the good news from Cagayan de Oro, in this time of we would like to appeal to all our dearest readers to help the Marawi evacuees in any way. Aside from donating, creating awareness by sharing this blog post will surely make a difference.
Many have asked us on where or how to #HelpMarawi, here some of the many initiatives you can check to help our brothers and sisters from Marawi.
It Starts with your Php 30 – a Php 30 feeding program. Your Php 30.00 or $0.70 can buy a Marawi evacuee a Meal + a Fruit, a Hygiene Kit or a Baby Care Pack.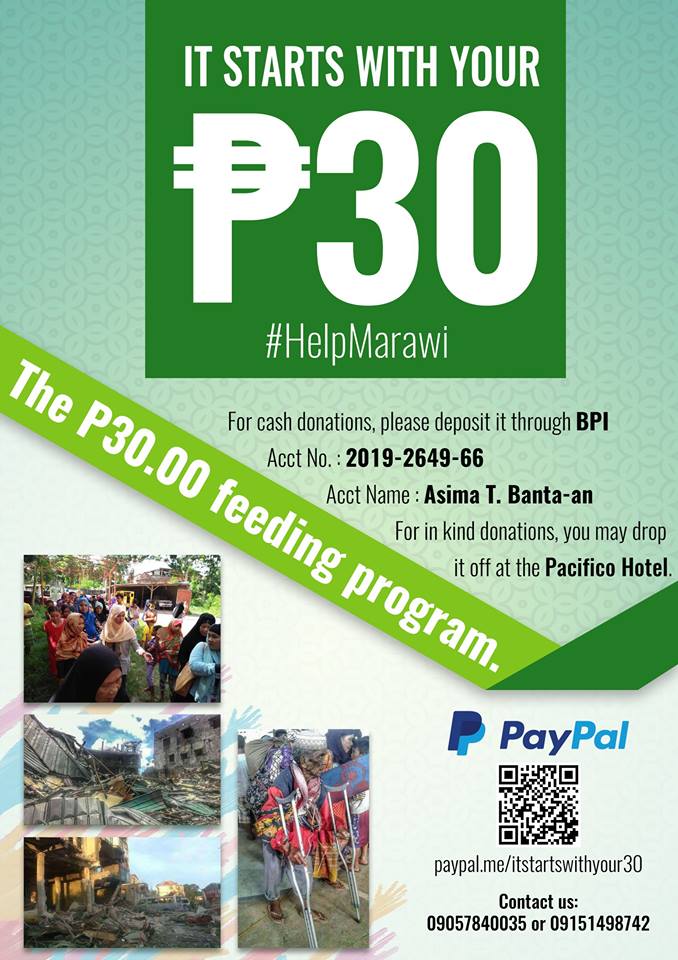 For in-kind donations, you may drop it off at the Pacifico Boutique Hotel located at Velez cor Dolores Streets in Cagayan de Oro. For cash donations (BPI or PayPal) or meal packs, please contact 0905-784-0035 or 0915-149-8742 or donate via Paypal through this link: http://paypal.me/itstartswithyour30.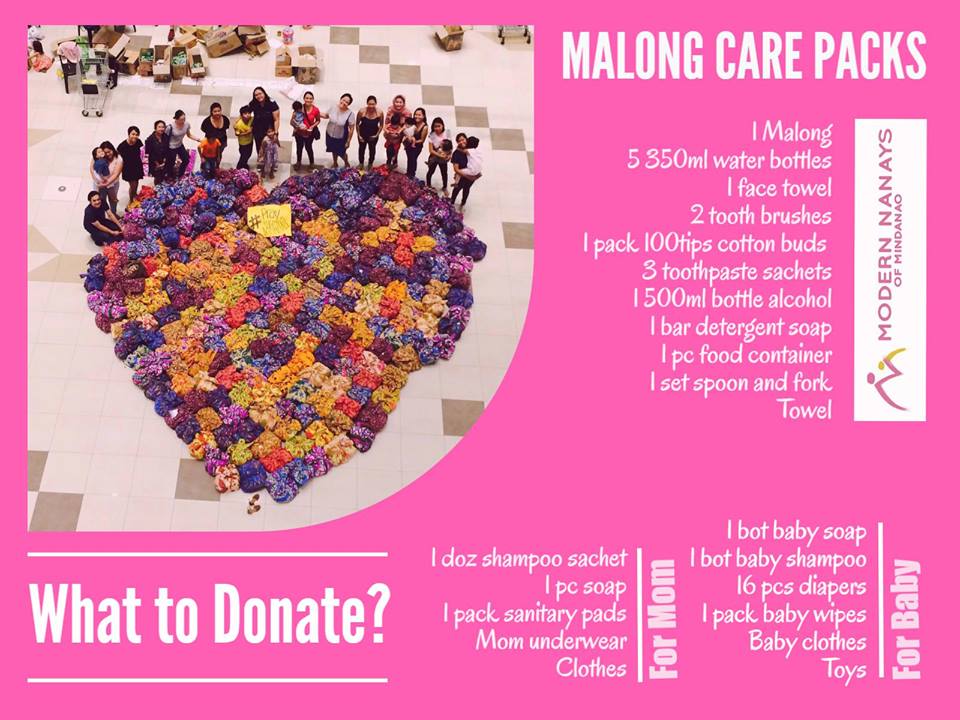 Modern Nanays Of Mindanao's #OneForMarawi – If you wish to help and lend a hand, you can drop your donations or help us repack the care packs at Centrio Mall, Activity Center. They also have a Go Fund Me campaign found on this link: https://www.gofundme.com/malong-pack-for-marawi-refugees
For shipments, you may address it to:
Modern Nanays of Mindanao
C/o Ivy Yrika Frantz Merilles
362 Apovel Subdivision Bulua,
Cagayan de Oro City, 9000
09177069040
Did you find this post helpful? Feel free to share it. 
WOWCDO.com is an award-winning Top CDO blog site that aims share the good stories, worth attending events, appetizing food options, must-go places and local personalities from the City of Golden Friendship. Remember, we share ONLY the WOW part of CDO!
Let's talk, contact us here or email wowcdoblog@gmail.com.