Catchy TV commercials and jingles. These and more make the ABS-CBN TVplus a household name around the country today and finally Digital TV has arrived in Cagayan de Oro.
Digital TV viewing is now possible with ABS-CBN TVplus a.k.a. "Mahiwagang Black Box" in Cagayan de Oro through Adtel and Iontec, ABS-CBN Regional's Partner in bringing the said innovation in the city of Golden Friendship.
More Kagayanons and Misamisnons can now watch exclusive channels and superior entertainment in dramatically clear picture and audio as DTV (digital terrestrial television), the biggest innovation introduced by ABS-CBN in 2015 in the Philippines. Our city is now the 2nd region to experience digital TV in Mindanao after Davao City. To date, ABS-CBN is the first media and entertainment company to switch to commercial DTV.
A ceremonial switch on happened late May 2016 at Limketkai Luxe Hotel for the ABS-CBN TVplus a.k.a. "Mahiwagang Black Box" launch in the city. The press launch was well attended by reputable news establishments and bloggers in the region. It was hosted by premier TV host Nicole Abas-Datayan. Present in the launch were TVplus executives and ABS-CBN Northern Mindanao Station Manager Donna Ocampo.
The press launched was focused on showing the media the Digital TV experience which promises a crystal clear reception, a big difference from the normal analog signals we have been used to in the Philippines.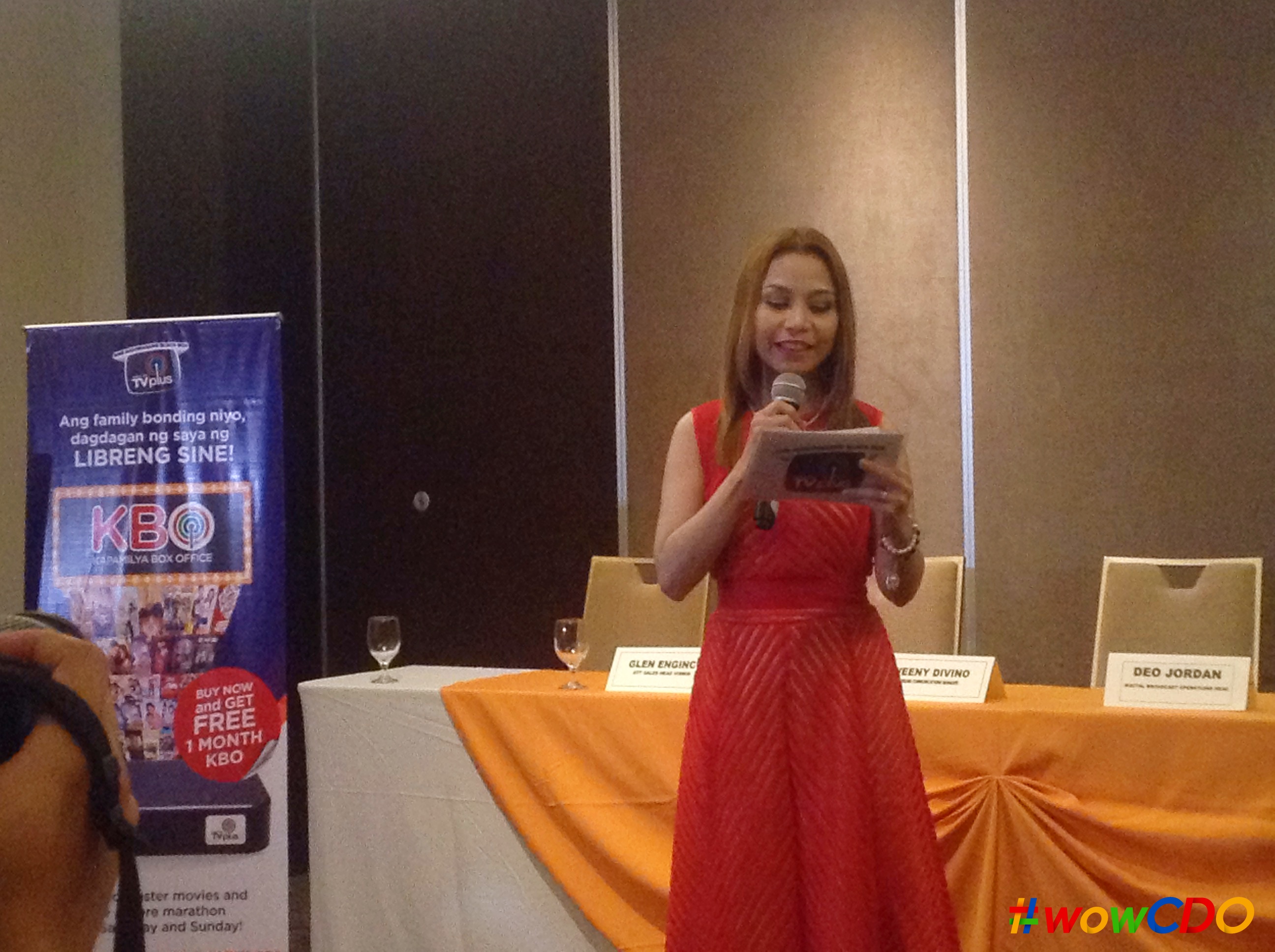 Is ABS-CBN TVplus a worth investment to elevate your TV viewing experience?
Here are  facts that will make you decide to switch to digital TV:
KBO or the Kapamilya Box Office is the newest feature to offer a Pay-Per-View TV experience such as Star Cinema + Holywood Movies with a catch-up marathon from your favorite ABS-CBN produced shows.
The Mahiwagang Black Box can detect 7 channels in total:

2 Free TV channels – ABS-CBN (Regional) and ABS-CBN Sports + Action
4 Exclusive Channels like Cinemo!, Yey! DZMM TeleRadyo and Knowledge Channel
1 Pay-per View – KBO (Kapamilya Box Office)
Cinemo is an all-day free movie channel targeted for the male demographics.
Yey! – the first all-day kids free channel
DZMM TeleRadyo – the first all-day radio news channel to go on TV
Knowledge Channel – the first curriculum-based educational channel in the Philippines
ABS-CBN TVplus can be installed easy breezy with an almost DVD-style of installation. A user manual is included for easy installation. The package comes with a power cable, the TVplus box, wire/cables that can be connected to analog and newly released UHDTVs. It also comes with an indoor antenna but advisable to be placed near the window. (So far, our indoor antenna is just placed near the TV.) You may also need to activate your TVplus box using the pre-loaded ABS-CBN Mobile sim in the package. To add, a separate remote control is also included.
The ABS-CBN Digital TV box also comes with a year of hardware warranty and in case you needed support in CDO, you can just call the distributor or bring the box to the support center (which is normally the reseller). No need for you to bring the receipt as the DTV box's serial number will be registered on their system. Make sure you fill out the warranty card and submit it to the reseller.
ABS-CBN TVplus covers the 40km-diameter from their digital transmitter located at Bulua, Cagayan de Oro City. During the press launch, TVplus can reach as far as Laguindingan and Balingasag in Misamis Oriental based on their testing.
Other TV stations to switch on Digital TV in the future will also be detected by the ABS-CBN TVplus. The "Mahiwagang Black Box" follows the digital standard used by Japan and the Majority of South America's Digital TV standard which is ISDB-T. Literally, you can bring your ABS-CBN TVplus box to these countries and be able to re-scan and detect locally broadcasted channels through digital signals. In Davao City, as per the TVplus executive, the Quiboloy TV, which has switched to digital signals, was also detected by the "Mahiwagang Black Box".
ABS-CBN TVplus is also equipped with the first ever emergency warning broadcast system or EWBS to provide useful information during emergencies, weather disturbances and natural calamities.
Currently in CDO, new ABS-CBN TVplus owners will get a one-month free trial which started last June 1 with KBO or the Kapamilya Box Office by simply sending the text message KBOFREE <TVplus Box ID> to 2131. With KBO, you get to enjoy the box office movies from Star Cinema. On the succeeding month, you can reload your ABS-CBN Mobile/TVPlus with Php 30 for a weekend of full entertainment.
ABS-CBN TVplus is offered in a one-time Php 1,999 fee, making more Kagayanons experience a cable-like quality to our homes without any monthly or installation fees. No ID needed.
In CDO, you may buy your ABS-CBN TVplus units at Robinsons Applicance Center, Octagon, Absenson, SM Appliance, SM Store, Silicon Valley, Gaisano Interpace outlets, Technomart, Wizmaster, Graphic all-in-store, and Ororama. You may also call Primewell, 09177234624, for a FREE delivery and installation.
Don't be left behind, switch to Digital TV with ABS-CBN TVplus now!