The much awaited tech expo this year in Cagayan de Oro is now happening this Friday! Mark the date, June 26, as the Cagayan de Oro – ICT Business Council (CDO-ICT) invites everyone to TechSpark at the Limketkai Mall Rotunda.
TechSpark was inspired and conceptualized in celebration of DOST-ICTO's 2015 ICT Month with the theme "Internet for All: No Juan Left Behind".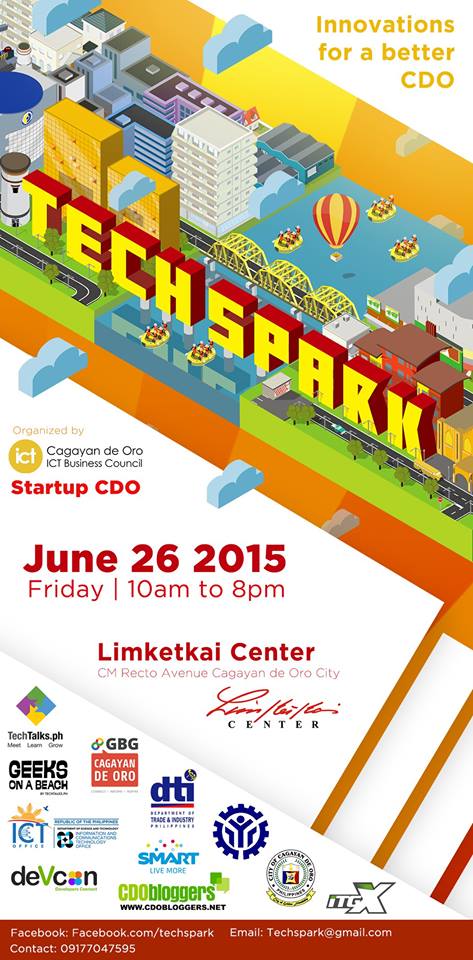 TechSpark is a tech exhibit day of tech individuals, startups and businesses for them to be introduced to the public and let the people know about them. The day event will also have innovative ideas, technology / technopreneurship talks, and other fun and exciting activities, such as a digital poster making contest and geek wars.
TechSpark aims to raise awareness to people about tech innovation and introduction on how tech could help improve people's lives and also create an environment of technopreneurship in Cagayan De Oro. Specifically, it aims to:
Expose key influencers such as students, teachers, local businesses on the importance of technology and how it could help improve our lives;
Raise awareness and exposure to tech start-ups
Introduce innovation and the use of technology
Promote technopreneurship concept/program through talks
So what to expect about TechSpark?
Tech and innovations exhibit: A showcase of new and exciting stuff created by Kagay-anons as a display of their skills and capabilities in ICT
New technology and services expo: Companies with new innovative products and services ready to meet the needs of the city
Tech Competitions: Activities to engage students and individuals in tech knowledge and live skills showcase
Geek Wars: Tech quiz trivia
Digital Poster Making: Live from scratch
Tech Talks: Short sessions about modern innovation, new technologies and services that can solve or help solve real world scenarios in the business and support environment
Startup Testimonies: Talks from successful technopreneurs of their experience and challenges in the tech business world
Plug-ins: Current available programs by partners that can help jumpstart and boost both businesses and startups
Tech4Ed by DOST-ICTO
DTI Go Negosyo Center by DTI-MISOR
TESDA Online programs
SMART Initiatives / New Programs
TechTalks.PH and Geeks on the Beach
Google Business Group – CDO Announcements
DevCon Announcements
CDO Bloggers Announcements
TechSparks is organized by STARTUP CDO: A group of technopreneurs and tech enthusiasts with the passion to build and establish new innovative ideas into businesses; CDO ICT BUSINESS COUNCIL: The accredited and recognized ICT Council in Cagayan de Oro City that
aims to promote ICT as a tool and an industry and DOST-ICTO Field Operations Office-Mindanao Cluster 2.
The event is made possible by the event partners – DTI-Misamis Oriental (DTI Go Negosyo Center), City Government of Cagayan de Oro, TESDA-Misamis Oriental, Limketkai Center, TechTalks.PH and Geeks on a Beach (GOAB), Developers Connect (DevCon), Google Business Group-CDO, IT Group-CDO, the CDO Bloggers and SMART Communications.
WOWCDO.com is part of the CDO Bloggers Network of Blogs and has been awareded by the CDO-ICT together with the Local Government of Cagayan de Oro as one of the Top CDO Blogs.